**FRESHLY MADE** 4-in-1 Dessert Combo Pack (Contains Cranberry Pistachio Fudge, Coffee Walnut Fudge, Almond Mewa Bite & Lemongrass Matcha Fudge) | 100% Natural No Sugar Dessert Sweetened With Stevia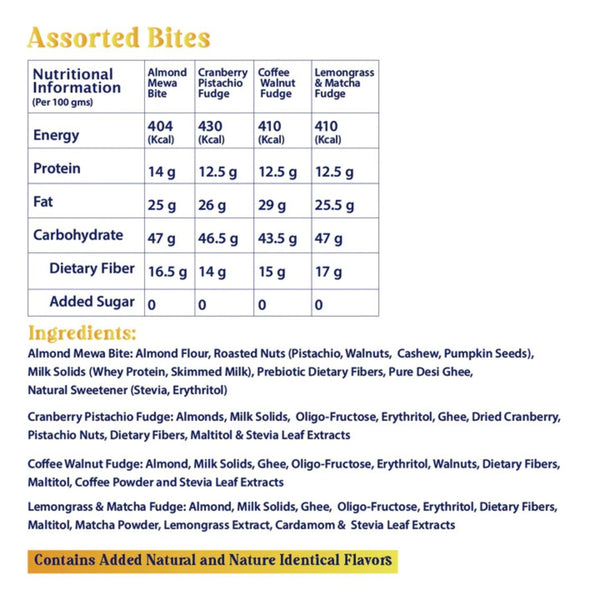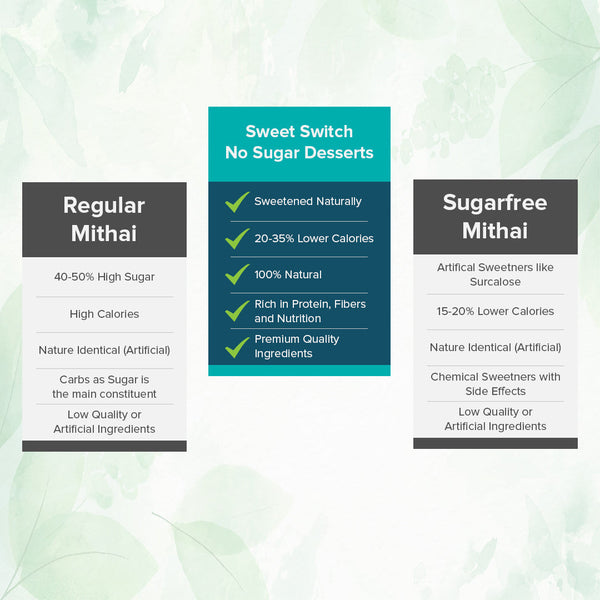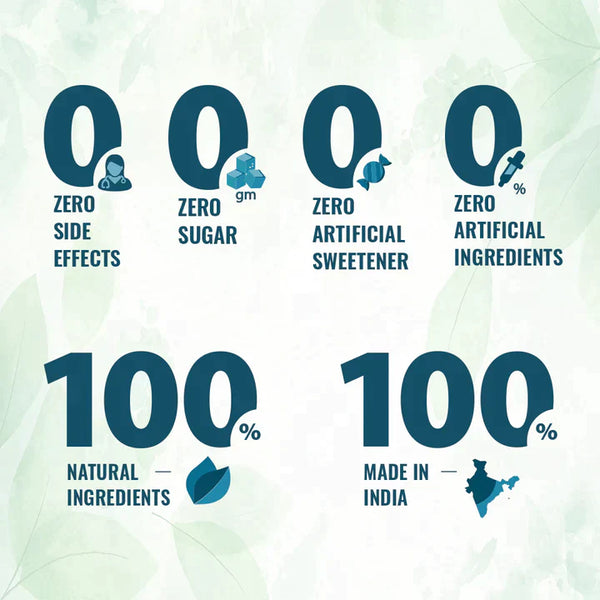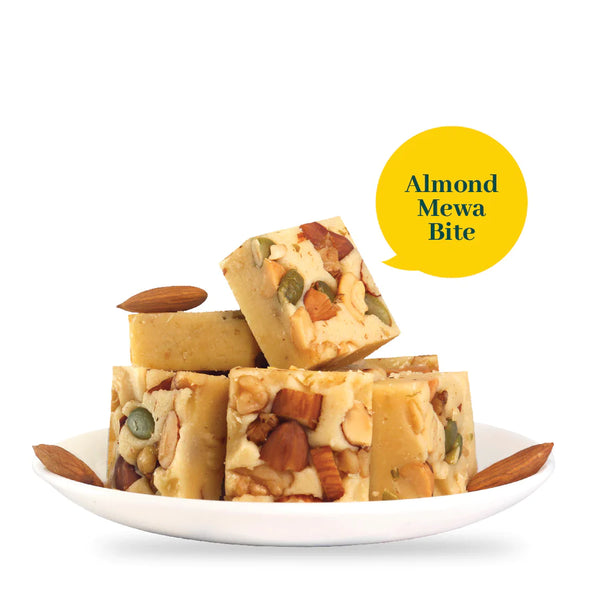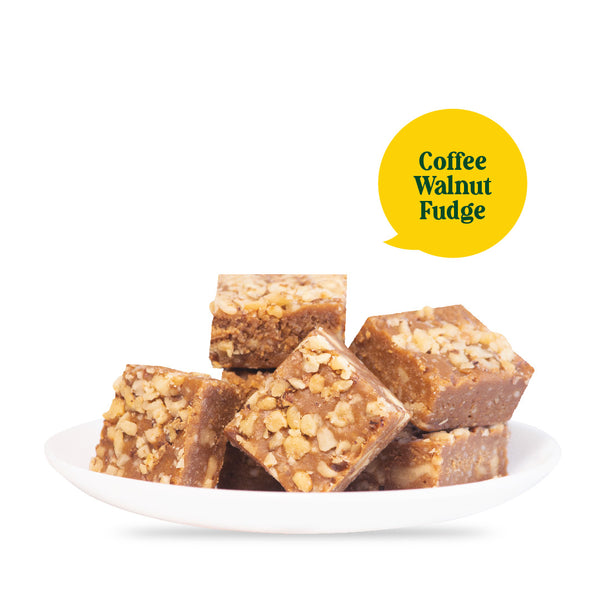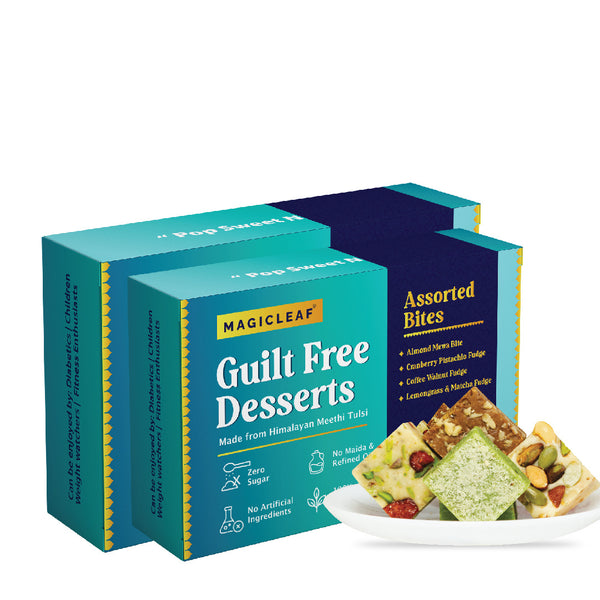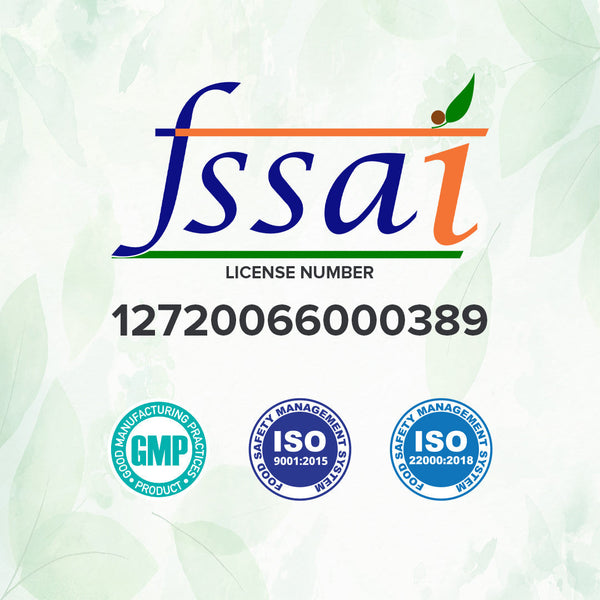 What is Stevia or Meethi Tulsi?
Stevia is a plant which looks similar to a Tulsi Plant. The leaves of the Stevia plant are extremely sweet in taste. 
Magicleaf Stevia Leaf Drops are made from these Stevia leaves!
How are Sugarfree Desserts Made?
Our desserts are made with premium ingredients, like pure desi ghee, and are free from maida and artificial sweeteners.
Our Sugarfree Desserts can be enjoyed by..
Diabetics, Non-Diabetics, Children, Elderly and everyone in the family. With our sugar-free desserts, you can enjoy a guilt-free treat that's both delicious and satisfying.
Product Ingredients (100% Natural)
Cranberry Pistachio Fudge: Almond, Milk Solids, Oligo-Fructose, Erythritol, Dried Cranberry, Pistachio Nuts, Dietary Fibers, Maltitol, Stevia Leaf Extracts
Coffee Walnut Fudge: Almond, Milk Solids, Ghee, Oligo-Fructose, Erythritol, Walnuts, Dietary Fibers, Maltitol, Coffee Powder, Stevia Leaf Extracts
Almond Mewa Bite: Almond Flour, Roasted Nuts (Almonds, Pistachio, Walnuts, Cashew, Pumpkin Seeds), Milk Solids (Whey Protein, Skimmed Milk), Prebiotic Dietary Fibres, Desi Ghee, Magicleaf Perfect Sweets (Zero Calorie and 100% Natural Sugar Replacement).
Lemongrass & Matcha Fudge: Almond, Milk Solids, Ghee, Oligo-Fructose, Erythritol, Dietary Fibers, Maltitol, Matcha Powder, Lemongrass Extract, Cardamom, Stevia Leaf Extracts
Contains Added Natural and Nature Identical Flavors.
Stevia - King of All Sweeteners
Stevia, a natural sweetener extracted from the Stevia plant, has earned the nickname "King of All Sweeteners" due to its unique and impressive qualities. As a zero-calorie and zero-glycemic-index sweetener, Stevia is a great alternative to sugar for people who are diabetic, overweight, or looking to reduce their sugar intake. Unlike artificial sweeteners, Stevia does not contain any harmful chemicals or additives, making it a safer and healthier option.
With its natural and deliciously sweet taste, Stevia is quickly gaining popularity and cementing its status as the go-to choice for people seeking an alternative to sugar.
The Art And Science Of Stevia Leaf Cultivation
Magicleaf works with smallholder farmers in Uttar Pradesh, Madhya Pradesh and Jharkhand to grow and harvest the Stevia leaves.
Carefully planted in early winters, our Indian farmers grow the delicate stevia plant with special attention to the growth of its leaves. It takes about 90 days for the leaves to reach the highest amount of sweetness.
Only leaves that have reached the correct maturity are hand picked and used to extract the sweetness to match with our strict quality standards.
All the Sugar replacements you get in the market are made from chemical based artificial sweeteners. You may have heard or read of ingredients like Sucralose, Aspartame and a dozen others. They are harmful for your health.
Others that are available in the market as natural alternatives to sugar like Honey, Date Syrup, Coconut Sugar, Jaggery are prone to adulteration or are still full of sugar and copious amounts of calories.
Stevia Leaf (Meethi Tulsi) is the only sweetener in nature that is truly zero calorie, has zero glycemic index and zero side effects. It is the only substance that is truly green (natural) and can claim to be sugar free. Thanks to its natural sweetness and zero-calorie count, Stevia is widely recognized as the King of All Sweeteners, making it a popular choice for those seeking a healthier, guilt-free way to indulge their sweet tooth.

Our proprietary organic precision extraction process ensures that you get the best chemical free Stevia extracts in our products.
Fun Fact: Pure Stevia extract is 300 times sweeter than sugar!
🤔Frequently Asked Questions
Does it really has no added Sugar?
Yes! This dessert is sweetened with Stevia (Meethi Tulsi). Stevia is a 100% Natural Sugar Substitute that gives this dessert the sweet taste without additional Sugar calories.
Is it diabetic friendly?
Yes! This dessert is suitable for diabetics because it contains 0g of added Sugar. Refer to the Nutritional Information chart for more details.
Is is freshly made after I order?
Yes! We make this dessert only after we receive the order.

✅ We use Modified Atmospheric Packaging (MAP) to make sure your No Sugar Desserts remain fresh. No artificial preservatives are used in this process.
✅ Shelf Life : 45 days
✅ Consume within 7 days after opening.
How many pieces of dessert does a box contain?
Our desserts are conveniently packaged in 12-piece and 24-piece servings, with an approximate weight of 250g and 500g, respectively.