Want to order in bulk?
We accept Corporate Gifting, Festive Gifting & other bulk orders.
Stevia is a Healthy, Zero Calorie Sweetener from Himalayas.
Stevia is a plant that resembles a Tulsi plant in appearance. It produces very sweet tasting leaves. All Magicleaf products are sweetened with the 100% Natural Stevia Extract. We work with smallholder farmers in Uttar Pradesh, Madhya Pradesh and Jharkhand to grow Stevia (Meethi Tulsi).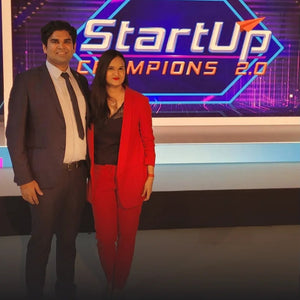 With over 7 years of in-depth research in food science, our founders Swati Pandey and Manish Chauhan set out to collaborate with Indian farmers to create nutritionally enriched foods with clean, organic and natural ingredients.
Our mission is to rebuild our damaged Nutrition Ecosystem and transform the way we make and consume food, one meal at a time.
We want every meal of the day to be wholesome, nutritionally balanced and dense without the need for supplements and pharmaceuticals.
How are we achieving this enormous ambition?
Through our range of products derived directly from the best kept secret ingredients around the world.
We use absolutely no sugar, artificial ingredients, or preservatives in any of our products. They're assured to be low on the glycemic index and contain 100% natural ingredients and real concentrated extracts with real functional benefits to keep your body and mind energized all day long.