VitaUp Natural Vitamin C Sachets (🍋 Zesty Lemon & Lime Flavor) by Magicleaf (30 Sachets Box) | Immunity Booster | Sweetened With Himalayan Stevia Leaves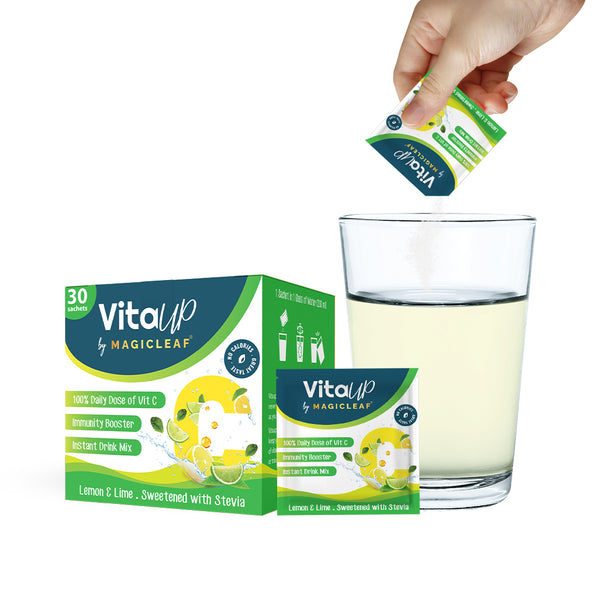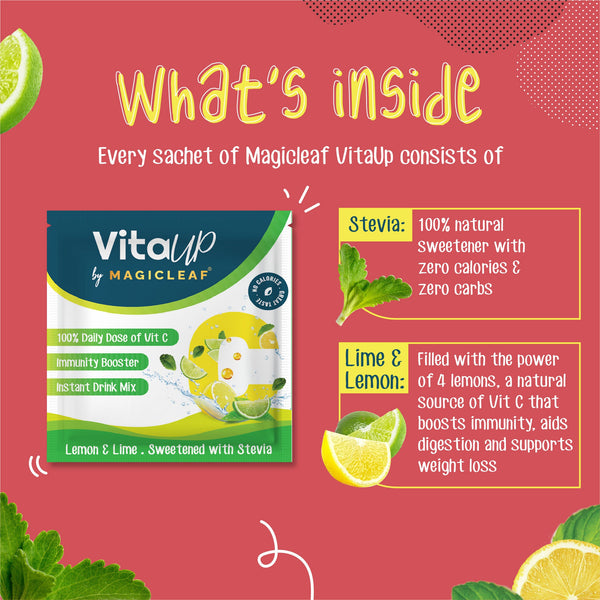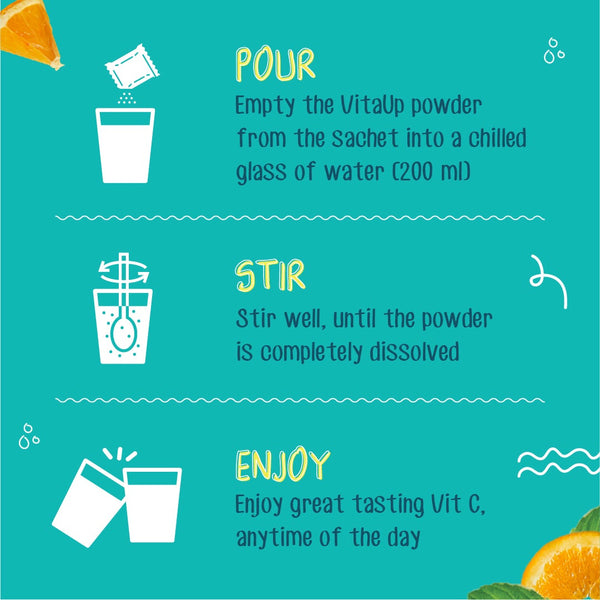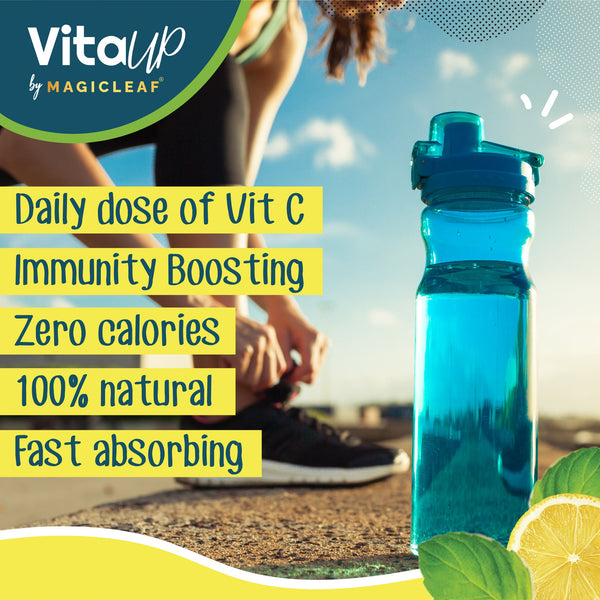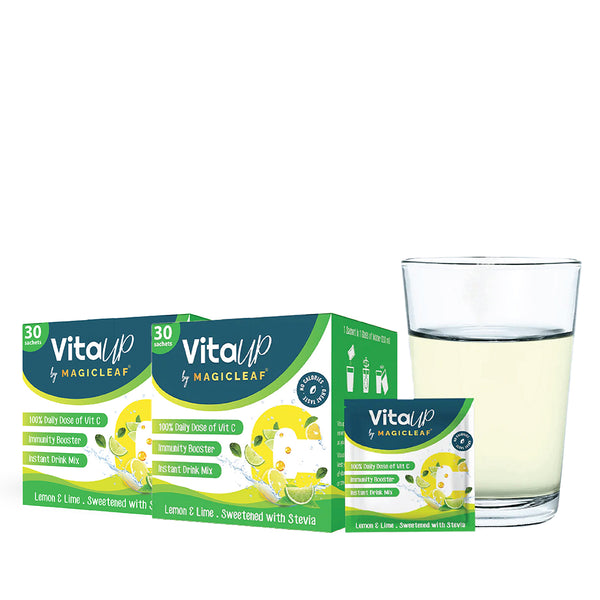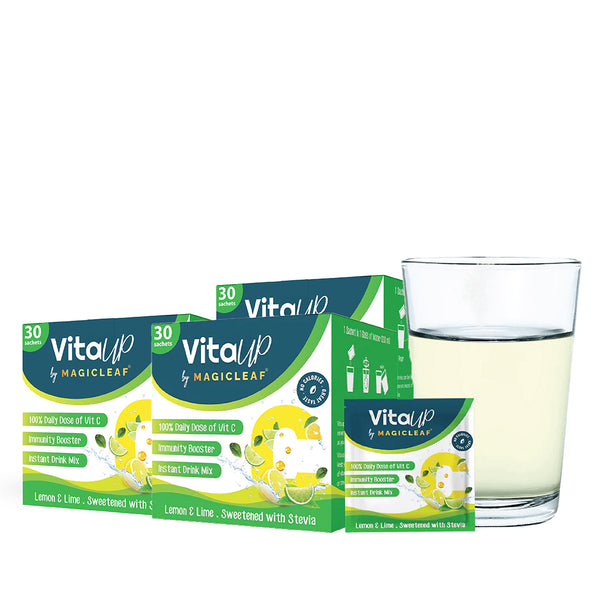 74% Indians are deficient in Vitamin C, be part of the other 26%.
What is VitaUp?
VitaUp by Magicleaf is a Vitamin C powder in a sachet meant for fulfilling the daily need of vitamin C. It's made from real oranges or lemons, depending upon the flavor you choose and sweetened with Stevia.
How To Use Zero Calorie Vita-Up Vitamin C Powder
Just tear a sachet, empty the content in a glass of water and stir - to prepare an instant vitamin C drink in less than 10 seconds!
Each sachet of Vitamin C has the power of 4 lemons or 2 full oranges. Consuming 4 lemons or 2 full oranges daily is neither practical nor convenient. Instead turn your glass of water into a quick dose of Vitamin C in just 10 seconds.
Can I take Vitamin C at any time?
Vitamin C is a water soluble vitamin which the body doesn't store. So it's safe to take it in recommended amounts at any time of the day and ideally in small doses throughout the day.

When you wake up first thing in the morning
When you are feeling tired
When you are thirsty
When you're at the gym
What makes VitaUp Vitamin C by Magicleaf special?
Power Up Vitamin C is 100% natural.
We have sweetened it with our proprietary Himalayan Stevia Extract which is 100% natural, zero calorie and zero sugar. It has no added sugar.

It has no harmful chemicals like Maltodextrin, Polyvinyl Pyrrolidone, arboxymethylcellulose.
INGREDIENTS: VitaUp Vitamin C is Made From -
Vitamin C - 100 mg (Natural Source)
Stevia Extract (Natural Sweetener From Himalayas)
Erythritol (Natural Carrier)
Lemon Lime/Orange (Natural Fruit Powder)
Citric Acid (Natural Acidity Regulator)
Your Daily Recommended Dose Of Vitamin C In a Fun Tasty Avatar
100 mg (100% Recommended Daily Allowance) of Vitamin C in every sachet
Zero Calories. No Sugar. Naturally Sweetened with Stevia
Natural Flavor. No artificial additives, flavors or preservatives
Refreshing sweet and tangy taste. Just add water.
How much Vitamin C can I have in one day?
65 to 90 milligrams (mg) is the recommended daily amount of Vitamin C for Adults.
Power Up Vitamin C contains up to 90mg.
What does Vitamin C do to my body?
Aids faster healing of wounds
Maintenance and repair of bones, teeth, and cartilage
Functions as an antioxidant, free radicals are neutralized by its antioxidant property — Free radicals are molecules that are unstable and can damage cells at the genetic level and accelerate aging
Vitalizes the immune system
Synthesizes collagen - This means it will help you achieve a healthy and glowing skin
3 Reasons To Start Using VitaUp Vitamin C Today!
100% Recommended Daily Allowance Of Vitamin C In Every Sachet

Vitamin C is essential for your immunity and skin health. Vitamin C helps enhance cytokine production by white blood cells. Cytokines are proteins which are responsible for the body's immune response. Vitamin C also lowers the risk, severity and duration of viral infections like Common Cold, Flu and COVID by improving the activity of natural killer cells and lymphocyte expansion.
Easy To Consume And Carry
Just slip a few sachets in your gym or office bag and make natural Vitamin C water anywhere in under 10 seconds without lemons or oranges.
No Sugar, No Calories, No Chemicals 
Vitamin C tablets, chewies and concentrates are either full of Sugar or nasty binders and chemicals like Maltodextrin, Polyvinyl Pyrrolidone, Carboxymethylcellulose that can do more harm than good to your health. Unlike other Sugarfree products, Power Up Vitamin C is sweetened with Stevia and does not contain artificial sweeteners like Sucralose, Aspartame or Acesulfame.