Super Zero Hot Chocolate Milk Mix Powder (220 GMS) | Blended With 100% Natural Himalayan Stevia Extract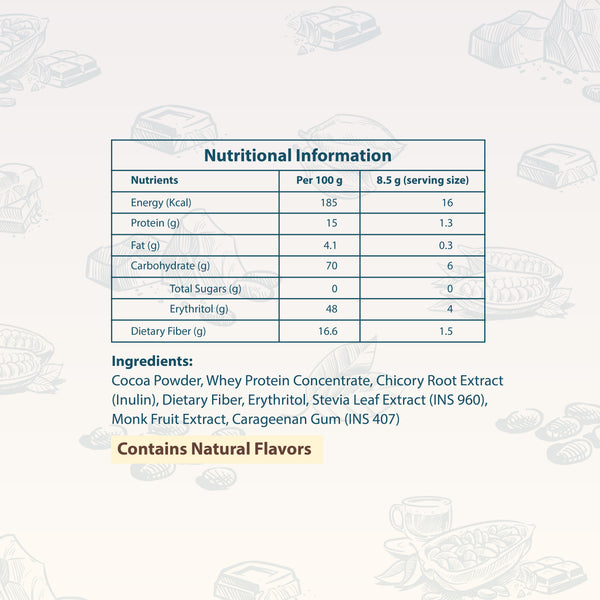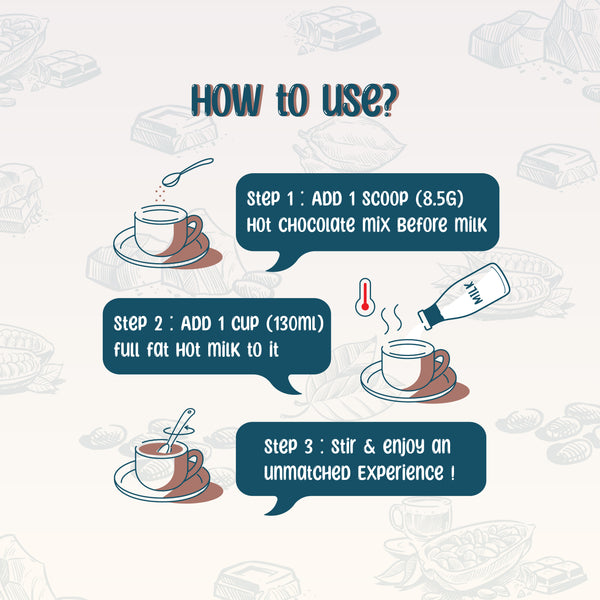 If you are sugar conscious and still want to enjoy hot chocolate then our milk mix powder is the best choice
✅ Perfect blend of rich tasting Cocoa
✅ Zero Sugar
✅ Naturally Sweetened
✅ Low Calorie
✅ Great Mixability

This Super Zero Hot Chocolate Milk Mix has Zero Sugar and Zero Artificial Ingredients.
How to use Hot Chocolate Milk Mix Powder
Add 1 scoop (8.5g) Hot Chocolate Mix in a cup
Add 1 cup (130ml) hot/cold milk to it
Stir and Enjoy
100 % Natural Ingredients:
Cocoa Powder
Whey Protein Concentrate
Chicory Root Extract (Inulin)
Dietary Fiber
Erythritol
Stevia Leaf Extract (INS 960)
Monk Fruit Extract
Carageenan Gum (INS 407)
Perfectly Blended Cocoa from Ghana and India
Finest quality Cocoa produced in the Eastern highlands of Ghana is skillfully blended with 100% pure Indian Cocoa.
Mildly Sweetened With Stevia Leaves from the Himalayas
Mildly sweetened with our exclusive 'clean tasting' Stevia from the foothills of Indian Himalayas to create a rich and creamy taste.
Health Benefits of Hot Chocolate
Research has shown in various studies the following benefits of Cocoa i.e the key ingredient of Hot chocolate.
Boosts Brain Power
Antioxidants
Supports Weight Loss
Improves Heart Health
Lowers Blood Pressure
Lowers Mood Swings
Why is stevia special and why do we use it in our products?
Stevia leaf extract is 300 times sweeter than sugar but has zero calories, zero glycemic index & zero side effects.
Every gram of Stevia that goes in your body goes out without affecting your blood sugar level while maintaining the sweet taste of your food and beverages.
Our Meethi Tulsi (Stevia Leaves) Is Grown In The Majestic Himalayas
The Stevia sugar in this pack is extracted from the Himalayan Stevia Leaves. Planted at the foothills of Himalayas overlooking the majestic mountains. The quality of your final Stevia Leaf Extract depends largely on where it was grown.
The Art And Science Of Stevia Leaf Cultivation
Carefully planted in early winters, our Indian farmers grow the delicate stevia plant with special attention. It takes about 90 days for the leaves to reach the highest amount of sweetness.
Only leaves that have reached the right amount of maturity are hand picked and used to extract the sweetness to match with our strict quality standards.
Himalayan Stevia Leaf : The King Of All Sweeteners
All the Sugar replacements you get in the market are made from chemical based artificial sweeteners. You may have heard or read of ingredients like Sucralose, Aspartame, Maltitol and a dozen others. They are harmful for your health.
Others that are available in the market as natural alternatives to sugar like Honey, Date Syrup, Coconut Sugar, Jaggery are prone to adulteration or are still full of Sugar and copious amounts of calories.
Stevia Leaf (Meethi Tulsi) is the only sweetener in nature that is truly zero calorie, has zero glycemic index and zero side effects. It is the only substance that is truly green (natural) and can claim to be sugar free. No Sugar is not just a label but a fact in Stevia's case and that's why it's known as the King Of All Sweeteners.